How to advertise on Facebook: A step-by-step guide
Step 3. Set up your ad account
If you've already set up an account, you won't see this step, of course. You'll go straight through to targeting your audience.
But if you're new to Facebook advertising, you'll need to enter some key account details here. Enter your country, preferred currency, and time zone, then click Continue.
Choose wisely, because if you want to change these options later, you'll have to create a separate ad account.
Step 4. Target your audience
At the top of this screen, you will name your Facebook ad campaign and choose which Page to promote.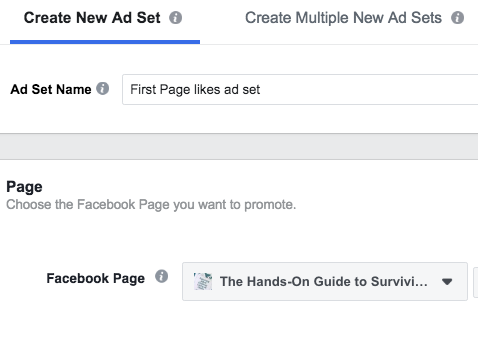 Scroll down to start building the target audience for your ads.
You'll see the first option is to add a custom audience of people who have already interacted with your business on or off Facebook. We've got a separate guide to walk you through Facebook custom audiences, so here we'll focus on the targeting options.
Start by selecting your target location, age, gender, and language. As you make your selections, keep an eye on the audience size indicator on the right of the screen, which gives you a sense of your potential ad reach.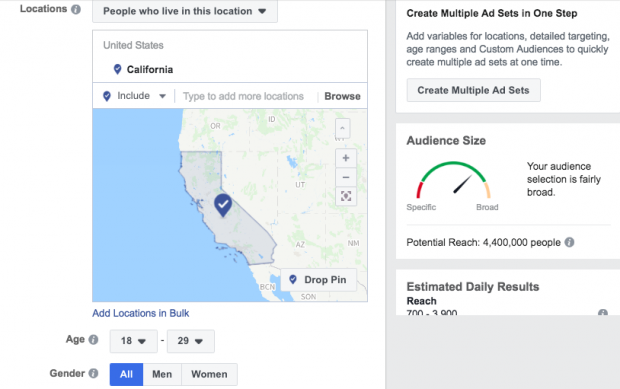 Now it's time for the detailed targeting. Remember: Effective targeting is key to maximizing ROI—and there's no shortage of ways to target your audience using Facebook paid advertising. You have two fields here in which to make your audience as specific as you choose:
Detailed targeting: Use this field to specifically include or exclude people based on demographics, interests, and behaviors. You can get really specific here. For instance, you could choose to target people who are interested in both meditation and yoga, but exclude people who are interested in hot yoga.
Connections: You can target or exclude people who have an existing connection to your Facebook Page, your app, or an event you managed. For example, if you want to reach a new audience, your would select "Exclude people who like your Page." If you want to promote an offer or new product to existing fans, select "People who like your Facebook Page" to reach people who already know your brand.
Step 5. Choose your Facebook ad placements
Scroll down to choose where your ads will appear. If you're new to Facebook advertising, the simplest choice is to use automatic placements. When you select this option, Facebook will automatically place your ads across Facebook, Instagram, Messenger, and the Audience Network when they are likely to get the best results.
Once you have more experience, you may wish to place your Facebook ads in specific locations. You have the following options:
Device type: Mobile, desktop, or both.
Platform: Facebook, Instagram, Audience Network, or Messenger, with several sub-options within each category (like feed versus right column versus Stories).
Mobile devices and operating systems: iOS, Android, or both.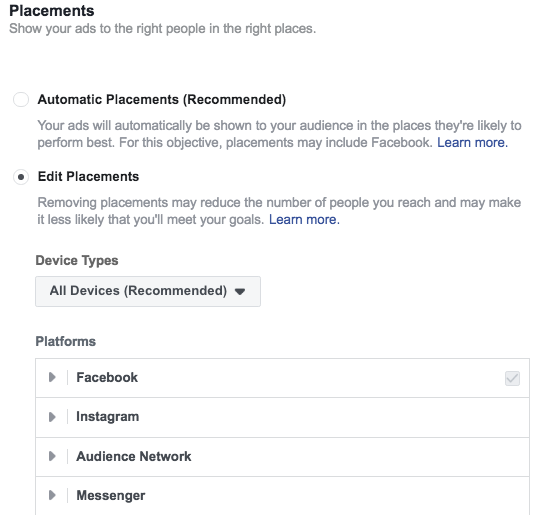 Step 6. Set your budget and schedule
Next, you decide how much money you want to spend on your Facebook paid ads. You can choose a daily or lifetime budget, then set the start and end dates if you want to schedule your ad in the future, or choose to make it live right away.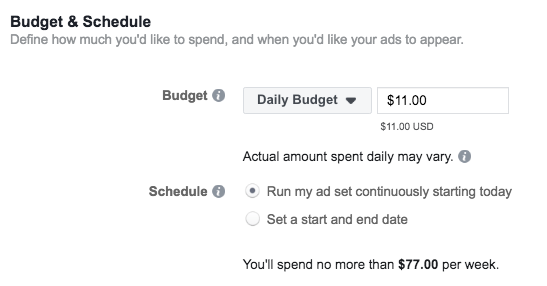 You can get into pretty fine detail about how you want to spend your money using the advanced budget options.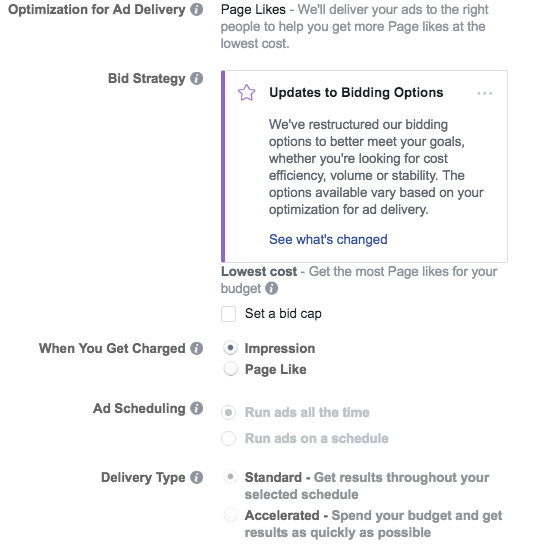 Keep in mind that running your paid advertising on a schedule may be the most efficient way to spend your ad budget, since you can choose only to serve your ad when your target audience is most likely to be on Facebook. You can only set a schedule if you have created a lifetime budget for your ad.
When you've made your selections, and you're happy with the audience size indicator, click Continue.
Step 7. Create your ad
First choose your ad format, then enter the text and media components for your ad. The formats available will vary based on the campaign objective you selected back at the beginning of this process.

Use the preview tool at the bottom of the page to make sure your ad looks good for all potential placements (mobile, desktop news feed, right column, and so on). When you're happy with your choices, click the green Confirm button to submit your order, then wait to get an email from Facebook notifying you that your ad has been approved.